Nordic championship Flatcoated Retriever - English version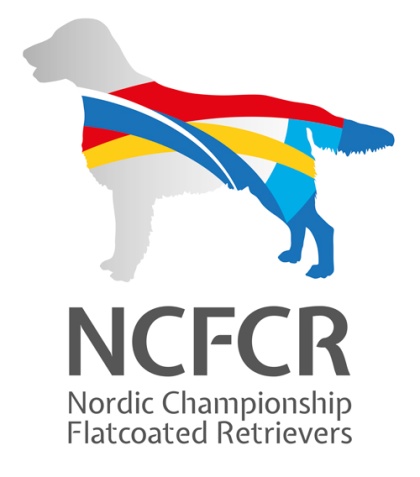 The Nordic Championship for Flatcoated Retrievers (NC) are under evaluation. All four Nordic FCR clubs have the last months been discussing how the NC could be evolved to build a broader interest in the FCR as a hunting dog as well as keep the competitive element alive by bringing the best of the best Nordic dogs together annually. There is an agreement to have a four-year evaluation period where we aim at redefining the scope and the model for the NC. Sweden is the host for NC in 2018, and already here we will present the NC in a new fashion.

Long term goal
The purpose is to have a cross-border meetings within the FCR breed where it is possible to gather and evaluate top FCRs. At the same time, the social aspect of the NC is very important. The NC shall combine the completive element with the long-term recruiting aspect where we attract breeders and new FCR owners to see the working side of the breed. In short, increase the interaction and interest in the working aspect of the FCR, increase the number of Nordic Working FCRs and compete and have fun together across borders.

The Golden NC has been an inspiration in the proses of the evaluation so far, as it has proven to gather a broad base of people and dogs and have been growing in popularity as well as letting the best working golden show themselves and compete with its Nordic peers.
The NC will continue as an annual event rotating between the Nordic countries and include a team event and an individual competition. The first new element to test is to have the team event arranged under the same rules and standard as the IWT. The IWT stands for International Working Test and is an annual European team event on dummies. It has its own rules and is therefore an unofficial working test with the purpose to identify the best team. The level of the tasks is what we define as Elite / Winner level.

C, B and A test in 2018
We start off with a true and tremendous event in Sweden in 2018. It will be a three-day FCR weekend from 12:th to 14:th of October gathering 24 elite dogs totally.

2019 – 2021
Norway has the honour of arranging in 2019, Denmark in 2020 and Finland in 2021, and we will use the experience in Sweden in 2018 setting the final plans as we go forward. In Norway in 2019 we aim to try one additional element; a possibility of more than 2 teams per country and that there will not be a demand that every dog in the teams are elite class dogs. The IWT tasks will still have winner class level.

Representatives from each club / committee take place of the annual evaluation. In addition, we will strive to have the participants input through some kind of questioner following each year's event.
We look forward to evolving the NC further and hope to see as many new faces as possible already in Sweden this year.
Entry, place, food and accommodation

Swedish interested handlers apply with a list of qualifications to jakt@frk.nu
Last date to apply is the 23 of september. The applications will be ranked according to the rules available at www.frk.nu.

For foreigners:
Participants are selected in accordance to the criteria set by each individual country.
Each country selects 8 dogs and handlers (6 regular and 2 reserves) and make sure they are registered in "SSRK-prov"
See http://ssrk.se/ssrk-prov/how-to-enter-a-trial Each dog must also be verified by SKK
Verification by sending a copy of the pedigree to regmail@skk.se
Each country send the list of the 8 ranked dogs/handlers to the commissar ammis.falth@telia.com together with proof of qualification for entering to the elit-class

The commissioner will later add all participating dogs to the specific test in SSRK-Prov


Food & accomodation sat 13/10 – sun 14/10

For those who wish to stay at Höjalen between Saturday and Sunday, we can now offer a package:
Supper (hash), bed & breakfast at 500 SEK/person.
Binding notification latest sep 30:th to: andreas.falth@checkpointchina.cn
Payment via swish to +46 (0) 76-13 44 888 or cash to Andreas latest October 12:th

The distance to Swedish Flatcoated A-trial championship is 70-80 km depending of routing.
NCFCR 2018 part of Super weekend 2018
During the weekend 12-14 October 2018, there will be a three-day Super weekend for FCR´s in the southern part of Sweden.

NCFCR
Friday, October 12:th, the team competition is conducted as IWT with 2 teams per country with 3 dogs each where we collect a total of 24 Nordic Elite FCRs.

Saturday, October 13:th, an individual B-trial elite class on dummy will be conducted for the 24 FCR´s where we will appoint the individual Nordic champion.

RasM
Sunday, October 14:th. RasM A-trial is not included in the NCFCR, but is the Swedish Flatcoated Society´s official race championship. This year it has been extended to 16 dogs and is organized in geographic nearby to NCFCR2018, which also makes it possible to attract more Nordic FCR´s to participate.

The regulations have been clarified for foreign dogs who want to start an A-trial in Sweden. The dog has to have achieved 1st prize on Swedish KKL (approved KKL before 170101), 1st prize in Danish Open A or approved practical hunting test in Sweden or Finland.

We will stay at the hostel Höjalen outside Vittsjö in Skåne where the 6 dogs/handlers are located in three rooms. Dogs may stay in the room. Please bring bedding and towel. The cost is "All inclusive" and includes registration fees for Friday's competition, Saturday's B test, food and accommodation from Thursday evening to Saturday afternoon. Possible companions that stays in the same room (can be on bunk bed) pays 1500 SEK for food and lodging from Thursday evening to Saturday afternoon.

What you need to bring:
Bed linen and your own drinks for the evening meals (If you need special food please inform in connection to the application.)

Cost NCFCR 2018:
2300 SEK / person competing
1500 SEK / person companion
Payment in Sweden: PG 35 89 44-7

From abroad, payment is made to:

Flatcoated Retriever Club
c/o Jessica Svensson
Södrav 8
35573 Gemla

Bank account number: 99 6026 0358 9447
IBAN: SE69 9500 0099 6026 0358 9447
BIC code (SWIFT address): NDEASESS

On Höjalen outside Vittsjö you will find an accommodation where nature is at the heart of the experience. The surroundings are calm and peaceful with varied kinds of nature. Forests and lakes are varied with cultivated fields and pastures. Small idyllic dirt roads invite you to bike tours and long walks while the lake's proximity to fishing, swimming and canoeing.
Read more at: http://www.hojalen.se/
Mirjam Axner (fredagens lagtävling)

I grew up in Sörmland, more specifically outside Katrineholm. We had animals of various shapes, guinea pigs, fish, rabbits, birds, cats, dogs and horses. The dogs were Labradors of the former exhibition model. I was mainly a horse girl and my family had several horses ranging from different areas. I met my husband Anders in the mid 90's and our interests were merged. I had acquired my second lab, a dog of pure hunting breed with the name Disco Caprinus. "Disco" also became a hunting champion and in addition to that he was a really skilled search dog that could find bad shot on deer´s and other animals.

I then had a bitch called Chip'n Croft Blue Bird. With her I quickly advanced to elit class. Unfortunately, she had some lack of drive to be a really complete gun dog and I replaced her at three years age. Then came "Kita", Streamlight's Nikita. She also rapidly became a B-test champion. She was started a few times on A-test and received some CK and is now happily retired. My current bitch from our own breed Carmal's Heroine Keen (Ina) is started a couple of times on A-test with a number of 2 placements as a result. She is a cool girl with incredible ability to find game so next season we'll be better prepared, I can promise you that. I also must mention my "Benny", Carmal's Enyas Nobel and my young Roy Drumgoose Seabee, both dogs that I just love.

During the autumn, there will be some picking up on the farms around where we live. I also aim to be a better friend with my shotgun since hunting yourself with your own retriever is just the best thing to do. I think it is fun with breeding and the goal is to produce strong hunting dogs that fulfill the hunter's needs. The hunting shall be done in a moral and correct ethical manner and for that purpose we need good dogs. The dogs should cope with difficult terrain, cold water and birds who do not like to be picked up...

Besides our kennel Carmal´s, me and Anders are running gun dog trainings and courses in the company "A & M Jakthundsservice", both individually and in groups in Sweden and abroad.

Now I look forward to seeing and judging all elite FCR´s at NCFCRs team competition 2018!
Bitte Sjöblom

First, I would like to thank for the invitation to judge!
The single breed tests are always very fun to judge and the flat club is amazing!

My name is Bitte Sjöblom, breeder of gun dog labrador retriever in small scale since the early 80s under the Askrike name. As a dog loving youth I have previously had other breeds like schäfer, tax, vorsteh, a flat and some mixed breeds. Born in Sundsvall and raised in early Jämtland and then, like many people from the north, the family moved to Stockholm. Via a 10-year period on the island Öland, I now live on a small farm just outside Vadstena, on the banks of the lake Vättern, with a fantastic crayfish.
Like main people from the north I grew up with hunting and fishing nearly every day. It has always been an honor to have something on the table that I brought home myself - that's why you hunt and fish!

My small "Askrike kennel" holds both SKK's Breeder's Prize and SKK's working Breeder´s Prize. What I'm passionate about is breeding and the working part of the retriever and uses my own dogs just for it. Searching for damaged game is also a matter of honor!
I took a hunting examine in the late 1980's and have before that been picking up regularly on major hunt events both here in Sweden and in England.

I have also had the privilege of being a gunner at a number of field trials and also hunting other small game. In recent years I have started field trials in Ireland and in England with a few different dogs with a few good 2nd places at its best. I also compete here at home on a regular basis. At home, there are 3 Labrador dogs in different stages of life, a youth, 1 year, "Storm", a 3-year-old Scottish FTW "Victor" and "Nash" my 6 year old elit dog.

In 2014 I became a B-test judge and are judging a number of tests during the seasons. I am now looking forward to meeting your good working flat´s in Skåne this fall!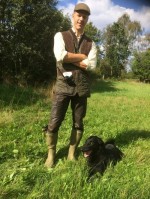 Andreas Josefsson

My name is Andreas Josefsson.
I am living in Nybro which is located outside Kalmar in Småland.

In Nybro I live with my wife Fia and we both share the interest in training, competing and hunting with our retrievers. We currently have one Flatcoat and one Labrador retriever.
Hunting and especially hunting with the retriever is a passion.

During the season I try to hunt as much as possible.
Regarding competition I enjoy all gun dog classes: A (game), B (cold game) and C-trial (dummy).

I have been participating in several Nordic championships and enjoy it a lot. This will be the first time I have the opportunity to judge it, and I am really looking forward to this. I am expecting a good competition as well as many good FCR´s.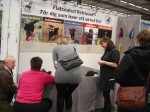 Ola Thunberg

I am grown up in Stockholm and spent a lot of time in the archipelago where my interest in hunting and above all retrieving came from. I have done a lot of different hunting but have got stuck for the seabird hunting and the interaction with a retriever.

I bought my first retriever, a Golden Retriever in the early 80's. After a few dogs, courses, competitions, test arrangements, association activities, etc. I met my wife Pia 2005 and became part of Kennel Feedback's. Since then, it has been mostly Flat coated retriever in our home.

In 2010, I got the chance to educate me to a retriever judge, which gave me new experiences. It is very interesting to see all the dogs on different choices, exercises, courses and tests and to meet so many nice and knowledgeable people in these contexts.
I am looking forward to judging the Nordic championship in a slightly developed set up this year.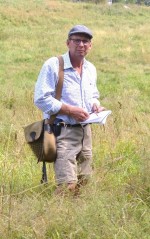 P-A Norling

My great interest in dogs arose through the hunt. As a boy I had to accompany my father and it did not take many years before I was hunting myself. When I was eleven, my father bought his first Labrador, a black bitch and since then, there have always been Labradors in the home.

In the mid 80's, I learned from a friend how to really train my dog. I started picking up at different hunt events and then I was really stuck. I have done everything from throwing crows to being involved in the breed clubs, hunting trial secretary in our reginal section as well as in the national club. I have been judging gun dogs both in B and A-tests for several years. In addition to hunting myself and picking up, I start WT, A and B tests, both in Sweden and Denmark.

Currently I am having three labradors, besides my old bitch Allicaps Child-In-Time, we have SE(j)Ch Hedgehog's Cashmere, and Hedgehog's Teal to be started in open class this year. I share the interest for dogs with my wife Anette and my two daughters. Anette and I live outside Höör in Skåne where we have a small breeding under the prefix "Hedgehog". In addition to the three Labradors, I also have a Bavarian tracking dog.

I feel honored to be asked and look forward to judging the Flatcoated Retriever Championship. It will be exciting and nice to see so many good FCR´s at the same time. Well met and good luck, I wish everyone.